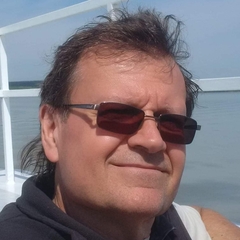 Imre Gyenes
Chairman of Supervisory Board
Imre graduated at the Technical University of Budapest in 1983 as a microwave electrical engineer.
He became amateur stargazer as a student and entered into the community of Friends of Astronomy (CSBK), which brought together amateur astronomers at that time. His first telescope was built by himself, its mirror was polished by the great Hungarian astronomer-teacher, György Kulin.
As a lover of electronics and electronic solutions, Imre is an electronic designer and CEPT graduated radio amateur. (He can sometimes be heard on the air with the call sign HA5STT.)
In 2018 Imre was definitively contaminated by astrophotography at the Meteor camp in Tarján and since then he has been trying to find the beauties that are invisible to the naked eye. He has been developing his tools and knowledge, he is trying to apply new techniques and ideas to cope with the new challenges of this wonderful activity.